If you prefer video format, you can click below to watch it.
Are you someone who has always thought of starting a journal but wondered where to start or lack the motivation to actually start it? If you are someone who never gave journaling a thought, you also must read it till the end and you never know, you might end up journaling! Also, if you are already into journaling, you might get some new ideas that you can add in your journaling process. Here I'm going share 13 simple and actionable tips on how you can start your journaling journey as a beginner.
First of all, what is a journal?
A journal is a written record of your deepest emotions, thoughts, experiences, observations, ideas and so on. In short, it's a written record of your entire life. You can also think of it as a tool for self-discovery and self-growth.
Let me clarify that there's no 'right way' or 'wrong way' to journal; one person's technique might be different from the other. There's no such hard & fast rule for journaling. I hope by the end of this article, you will be charged up to finally start journaling after going through the following 13 tips. You need to figure out what works best for you to fulfil your intentions of journaling; which leads us to the very first point that I want to share :
Take your time and figure out your purpose of journaling
It's good if you could be mindful & intentional on why you're journaling so that you don't leave this habit some or the other day. Your purposes of journaling could be anything like:
To feel better or relaxed after journaling (If you want to relieve stress there are different ways to de-stress yourself from your anxieties apart from journaling.)
Preserve memories
To plan your day to better organize it
To gain clarity & insight about a particular thing in your life
To measure your growth and become more productive
Reflect on some ongoing problem to figure out the solution
If you want to learn about different types of effective vision boards and how to achieve your goals through it, you can visit manifest using vision boards.
If you don't have any specific goal that you want to achieve through journaling, then you can just start writing with whatever is going on in your mind, just let it out on paper.
No need to buy expensive journals when you're just starting out
Many people buy expensive and beautiful journals and feel too afraid to even write down anything in it! No need to buy expensive journals when you are just starting out. In the beginning ,all you need to start journaling are simply a notebook and a pen. The notebook has to be of good quality so that it doesn't get torn out because you're leaving part of yourself out there and you don't want to lose it.
You may not carry your physical notebook with you all the time to wherever you are going. If you want to write down ideas that suddenly came in your mind or just dump your thoughts and not wait till the end of the day, then you can do it right away on your phone (or laptop). In case you are a pen and paper person, then you can carry a small size notebook if you want.
If you prefer typing more than writing on paper, your journal could be a Google Doc or a Word file. There are several apps you can use to journal. Just be sure they sync to the cloud, as you don't want to lose your journal entries due to any inevitable reason. So you can have both physical and digital journals according to your need and convenience.
Create sections
It's good if you don't write everything in a single journal. Suppose you have decided to journal in 3 different categories, you can get yourself 3 different notebooks and then go on writing. In this way, in case you want to look back on a particular topic, you know which notebook to search in.
But again, do not feel pressured to buy different journals for different categories when you are just trying to figure out what you will be writing. In that case, you simply create sections for the different categories inside a single notebook. For example, one section is for letting out your thoughts and emotions only, another for daily log ,one for planning out & organizing your day and so on.
Don't worry too much
You might have seen journals of some people having beautiful calligraphy, cute doodles, colorful pages, neat & clean handwriting and they might have seemed flawless to you. But what you didn't realize is that when they started they did mess up things and probably they still do. So don't worry about the structure, format, design, handwriting , grammatical & spelling errors etc. Be completely ok with crossing out lines, even pages, writing meaningless stuff, creating absolute mess and so on . Accept that you are going to mess up and it's not a big deal at all. They're beautiful parts of the process.
Don't get demotivated if your journal does not look visually good. What you write inside your journal and how it makes YOU feel matters the most. You're leaving a part of yourself in it so it is special anyway. Everything else is additional. Later on you may or may not invest time in decorating it. For the time being, just start. Just go with the flow and eventually you will get the traction.
If you keep striving for perfection, you will never be able to start anything. Rather be happy and celebrate that you started or restarted something for yourself. This new addition to your life is to make you feel happy, relaxed and more organized.
Feel free, make it yours!
Your journal doesn't have to be very well-thought , well-structured or insightful. Feel free to write down whatever comes in your mind. Do not become too conscious while writing. No one's gonna read it, or judge you. It's something that you own completely. while writing, don't bother about whether whatever you're writing makes any sense. Write in a free flowing way.
The right time
In the morning when your mind is quiet and fresh, it becomes easy to think and write. You can start your day with positivity and it helps in staying productive as well. Journaling questions to start your day right:
3 things I am looking forward to today
3 good decisions I can make today
What am I ready to welcome more into my life
How do I want to feel at the end of the day
What can I do today to get closer to my goals
What reminder or affirmations do I want to give myself today
If you just want to conclude your day by writing down how your day was , then just go ahead and write before going to sleep. Journaling questions to conclude your day right:
Am I happy with myself today?
3 wins: things that you accomplished that day
3 things you are grateful for
What did I do good today?
What could I do better tomorrow?
If your purpose is just letting out whatever is going on in your mind, then obviously there's no particular time to it; write whenever you need to. Otherwise, figure out a time when you enjoy journaling the most, be it early in the morning just after waking up or before going to bed and you can stick to the time that suits you the best.
Don't be too hard on yourself
It is good if you keep journaling as a habit in your daily routine.
You might feel like skipping a day but be true to yourself. If your intention of journaling is self-improvement, then write at least a single line or just write in bullet points but don't skip completely. That single line will also be worth it in the process of staying consistent. That will get you in the habit.
It takes time to build a new habit. Don't be too hard on yourself. You shouldn't feel it as a burden or another forced task on you.Rather it works to lighten the already existing ones.
Probably you have already got a lot or something that you do out of obligation. It's best if you journal out of inspiration and not obligation. Your approach shouldn't be like "I have to do journaling" rather, "I want to do journaling."
All things positive
The idea for my next journaling tip is that you can keep a separate journal for all things positive like:
What's the best thing that happened today- that thing could be your accomplishments or anything that you think was the highlight (remember, only positive things!) of your day
Happy moments & laughter moments- anything that happened in your family or surroundings no matter how small the matter is, it still matters, it made your day a little bit more positive so it's worth-mentioning.
Gratitude journal- You can write in bullet points or in full sentences whatever you are grateful for in your life. Write at least 3 things everyday. You can also write whom you are thankful to and why.
At times when you are feeling very low or nothing seems right you look back on this journal and you'll find only positive things. How beautiful is that! It will help you remember so many good and positive things about your life. Try this.
Journaling prompts & ideas
Keep experimenting with journal prompts and in the process you'll get to rediscover yourself. When you lack ideas or inspirations, you can go to the pinterest app or website to look out for new ideas. Below are some ideas that you can start with:
Stress Relief/ Brain Dumping Journal
All things positive (that I discussed above)
Gratitude Journal
Self-growth /Self improvement/ Productivity
Write goals each day
Daily log/ about your day
Journaling for problem solving
Write the date on every journal entry
Imagine 20 years from now you will be able to look back on a first hand account of your childhood, adulthood, your changing perceptions and so many things.
You'll feel really disappointed if you won't see the dates when you feel like going back to those beautiful moments of your life. Oftentimes, I write the time as well. You don't have to be so specific but you can if you want.
Be honest as you write and keep your journal private
Some people might feel uncomfortable and anxious thinking that someone would read their journal and probably would drop the idea of journaling .In this case, you can also go for your digital journal.
Your journal is not for someone else to read no matter how close that person is to you. It's for you to completely express yourself. Keep it at a private place so that you can allow yourself to be completely honest & vulnerable while journaling.
Find a calm and quiet place for journaling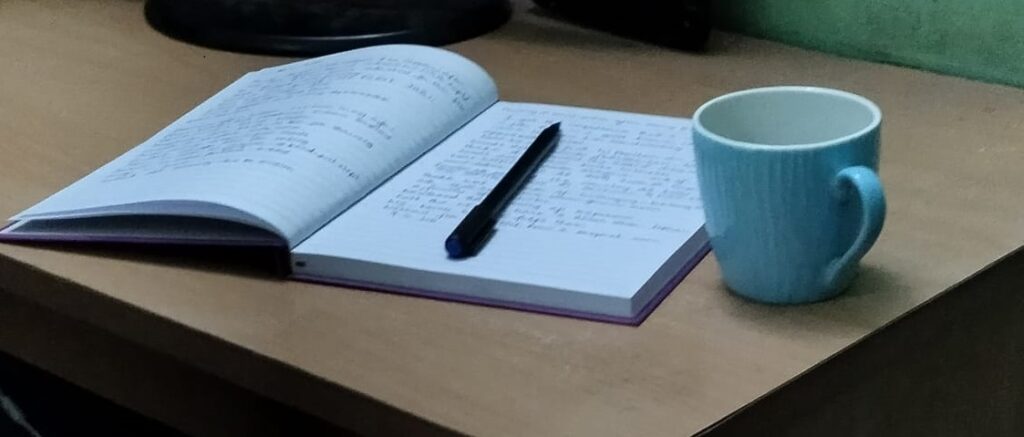 You won't like to be distracted while letting out your emotions as it might also break your concentration. Find an isolated place for journaling for a smooth and calming/peaceful experience.
Set an atmosphere to journal and make it an experience you always look forward to
I know some people who don't like writing things down that much. If you are one of them, I'd say that you can at least give journaling a try. To make your journaling session exciting, relaxing and blissful, you can light a candle (if you want ,a scented one) or play some soothing music. So keep experimenting with these little activities and you will always look forward to something really heart-warming, peaceful yet fun.
Final thoughts
Building a new habit is hard and sticking to it is harder. Take some time to clarify what do you want to accomplish through journaling and just go for it. You will get a friend for life in the form of a journal if you are true to yourself and stick to it. I hope that the above mentioned journaling tips for beginners help you to get started in your beautiful journey of journaling.
If you are already into journaling, then feel free to let me know in the comments below what are your journaling experiences and in what ways it has benefitted you. If you also have any tips to share, go ahead, I would love to hear back from you.
You may also like these articles:
If you are new to your skin-care journey, you can check out Chemical Exfoliation 101.
If you are a banking aspirant, you can learn from The Fundamentals of Bank Exams for Beginners.